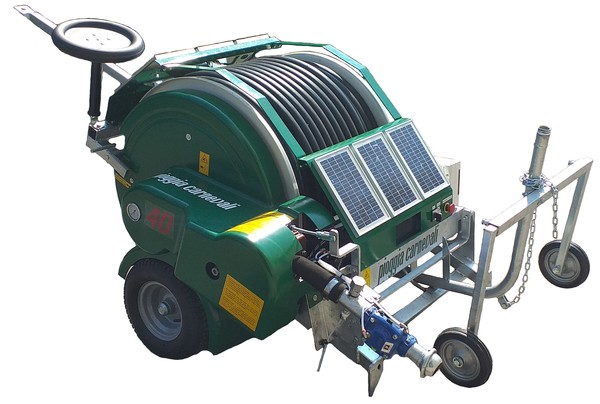 Special
E400 and E500, "solar" sprinklers by Pioggia Carnevali
The E400 and E500 models are part of a new generation of self-propelled irrigation machines powered by an electric motor, which in turn is powered by solar energy. Both machines, manufactured by Pioggia Carnevali of Porto Mantovano (Mantua) are equipped with a set of batteries that allows them to work 24 hours a day, 365 days a year.

The E400 and E500 models, explains the Lombardy company in a technical note, were designed with the aim of offering the market an eco-sustainable irrigation system that could operate autonomously and with any type of fluid, even in the presence of solid parts in the livestock effluent. There are four return modes, and the speed can be adjusted by means of a switch on the side casing, while a solenoid valve stops the flow at the end of return, thus avoiding - even in the absence of an operator - unnecessary water consumption. The self-propelled irrigation machines by Pioggia Carnevali have a hot-galvanised supporting structure, a return system with turned worm screw and stop bar at the end of the stroke, a two-wheel sprinkler trolley with adjustable width, a solar panel with batteries, a sector sprinkler with a series of nozzles, and a four-metre high pressure connection hose.

As far as the available lengths are concerned, in the case of the E400 the pipe (virgin polyethylene certified PN16) starts from a minimum diameter of 40 to a maximum of 50 centimetres; the length is between 115 and 200 metres. In the case of the E500, the minimum diameter is 50 centimetres and the maximum is 63 centimetres. The length ranges from 100 to 250 metres.