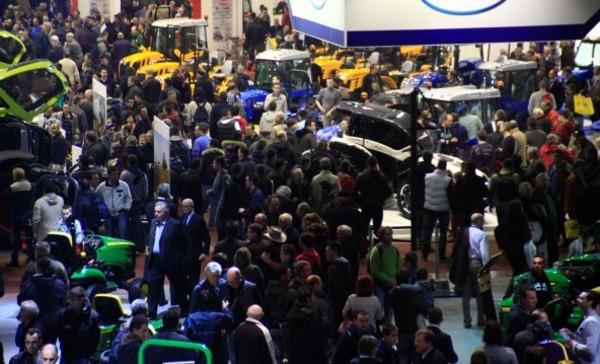 Special
EIMA International exhibition area over the top
The world agricultural mechanization exposition has been extended to an area of 150,000 m² net and 300,000 m² overall committed for the 1,755 industries already signed up and more than 70 on the waiting list. Also the number of foreign exhibitors has climbed to 570 to exceed the record reported for the most recent edition
by the editorial staff
July - September 2014 |
Back
The 41st edition of EIMA International, the great agricultural mechanization exposition scheduled for 12 to 16 November, has stretched the Bologna trade fair quarters to their maximum. The Italian Agricultural Machinery Manufacturers Federation, FederUnacoma, responsible for the organization of the event, has already declared standing room only for the exhibition area. Already committed are 150,000 m² of the 300,000 m² overall, including 130,000 m² inside covered and climatized pavilions and another 20,000 m² assigned to an outdoor demonstration area. These results mark an all-time high for the upcoming exposition with an expansion of 10% of the exhibition area and 7% overall beyond the 2012 edition.
The manufacturing industries attending will take over the pavilions according to their merchandise category among the 14 specialized categories plus the four theme salons. To date, 1,755 companies have confirmed their arrival and another 70 have been placed on the waiting list with hopes of finding a place within the pavilions.
All the numbers are growing, exhibition area and exhibitors in their merchandise sectors, including the scaling up of tractors, machinery for soil preparation, components and gardening, a sector which will bring in a brand new feature for EIMA International dedicated to floriculture. However, the review is expanding not only the exhibition area and the number of exhibitors but also on the international side.
At present, 570 companies are preparing to arrive from 44 countries around the world and this number is certain to grow well beyond this figure, and the 558 exhibitors from 41 countries attending the previous edition, thanks to the waiting list. In this connection plans are moving ahead for business-to-business meetings among the industries present and the numerous official foreign delegations coming to Bologna from the Americas, the BRICS, Africa, the Middle and Far East and Eastern Europe. Aside from the official delegations, another distinguishing feature of EIMA International is the number of business people from abroad which came to more than 32,000 from 122 countries for the most recent edition out of a total of 196,000. For the 2014 exposition, the organizers expect to reach 200,000 people overall and further gains for foreigners arriving thanks to an information campaign running this year with the focus on countries considered strategic and especially promising for the agricultural mechanization market; those named in the schedule of presentation conferences include Spain, the United States, Argentine, Brazil, Morocco, Iran and Indonesia.