News
May - June 2019
BKT, a strategic centre for the European market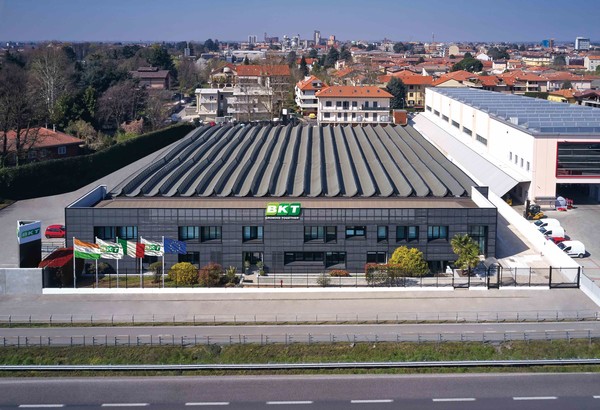 After being a simple warehouse for years, since last April the BKT facility in Seregno, just outside Milan, is now a true strategic centre to win a prominent position on the European market. The new centre was inaugurated last April 5, and it will be the point of concentration of tyres for tractors and off-road vehicles that come from the various plants of the Indian giant before reaching customers all over Europe. It will also host meetings with commercial partners and the sales network, which will receive training on the technological innovations of products in multimedia classrooms. The new facility, which covers more than 500 square metres, has been designed by combining very functional architectural criteria and the evocation of Indian atmospheres, to maintain the link with the culture where the company was born and continues to develop. The auditorium, intended for training and also equipped for videoconferences and virtual reality, can accommodate up to 50 people. The declared goal is, therefore, to achieve a leadership position in the old continent, where it already realizes half of its turnover, which last year exceeded 900 million dollars worldwide. The staff of this "Task Force Center", as it was defined, is composed of 15 people led by Lucia Salmaso, CEO of BKT Europe.
Here's how she answered Mondo Macchina's questions.
The European market has a large share of BKT's turnover. But what share does BKT have of the European market?
These analyses are always difficult to deduce because there is no independent market data that includes all tyre manufacturers, both European and non-European. Globally, BKT has a 6% market share in the off-highway tyre sector, with the goal of reaching 10% by 2025. In the agricultural sector, we hold 11% of the global market.
What is BKT's competitive advantage over competitors in Europe? On what arguments does it aim to be preferred by this continent's customers?
Our users recognize us several advantages. They certainly appreciate the size of our range, which translates into the possibility of always finding the model, the size, the compound suitable for every situation, application and machinery. With our 2,700 products we offer one of the largest portfolios on the market and we respond to the most specific requests. Secondly, technical support: thanks to our partners, i.e. distributors and retailers, we are everywhere in the world, in 160 countries, but above all we are close to our end customers who can count on support and training services. A decidedly competitive plus. Furthermore, at the BKT Europe Headquarters there are members of the technical team, experts ready to take the field both in proactive training and in the rapid resolution of problems. Finally, quality, never sacrificed, always honoured as the ultimate goal of everything we do. A sturdy and durable product saves money for everyone and increases productivity. This is one more reason that BKT enjoys an excellent ratio between the quality and price of the tyres it offers. The fact that now the brand is also known to the general public, through sports sponsorships, is a further advantage that not only increases notoriety, but also the trust that there is a solid and aggressive company behind it.
The space given to technologies and multimedia spaces at the new headquarters is significant. How will these investments boost sales?
This is another element that differentiates BKT. And in any case we must keep in mind that tyre products are increasingly technological and advanced. From a second-level component, compared to the machine, it is becoming a co-protagonist that transmits its power to the ground and ensures its best performance. For this reason, we cannot fail to accept the technological revolution, also pursued through places designed and built to analyse the market, the needs and the possible developments with innovative tools. We have just celebrated 30 years. And in all these years of activity we have collected a great deal of information that constitutes a wealth of precious experiences. We don't want to keep it for ourselves, but to share it with BKT's extended family, which is made up of its partners and its customers. This centre, and the valuable information it contains, are available to the entire BKT Group, which also includes our distributors, resellers and customers. These technological tools, included in the BKT Space, help greatly in the research and study of materials. They help develop new ideas. We are convinced of this. Lastly, BKT Europe already had a warehouse in Italy, which handled the shipment of supplies for the first equipment. It was simply located in two other locations and managed by external companies. Now the warehouse is adjacent to the offices, and this allows us an even better logistical flow.
by Giampiero Moncada