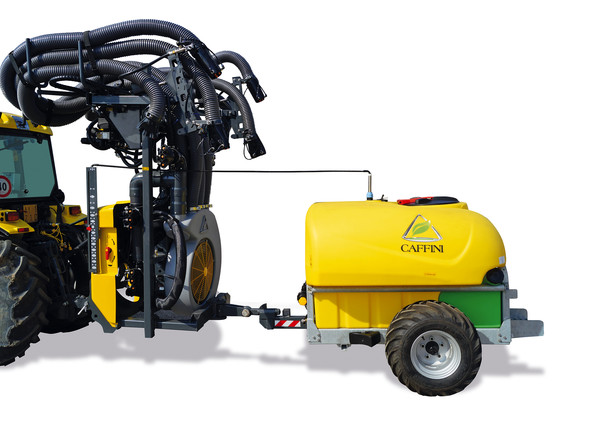 Special
Combo-Arti and T-ONE, agility for pesticide treatments
The latest Caffini product is called Combo-Arti, part of the Rafal range, and is a machine equipped with a centrifugal turbine designed for low-volume multi-row treatments in vineyards (on two or three rows). Combo-Arti is made up of a cell brought to the third point of the tractor and an articulated tank with capacities of 800, 1,000, 1,500 and 2,000 litres; the components dedicated to treatment - turbine, excavating arms, diffusers - have been positioned inside the cell.

The construction solution adopted by the Veronese manufacturer (based in Palù) has proved to be very beneficial as it has improved the machine's manoeuvrability in tight spaces and on hilly terrain. Another plus of this model is the reduced consumption of pesticides thanks to the air flows and calibrated nozzles of the diffusers.
Combo-Arti can work 2 complete rows (Arti-Four) or 3 complete rows (Arti-Six). Caffini also launches the new range of towed weeders of the T-ONE series, which differs from the previous one in its 4,000-litre tank - compact and with a very low centre of gravity, it allows track widths of only 1,500 mm - and in its standard cushioned drawbar.
This reduces oscillations between the sprayer and the tractor, allowing the machine to travel at a steady pace without damaging the booms.
The electronically controlled steering axle ensures a tight turning radius at the headlands without compromising the machine's stability. T-ONE is available with Can-Bus computer for the S series and IsoBus for the S.E series, which also offers an automatic washing procedure and electrified services that can also be operated from the cab.