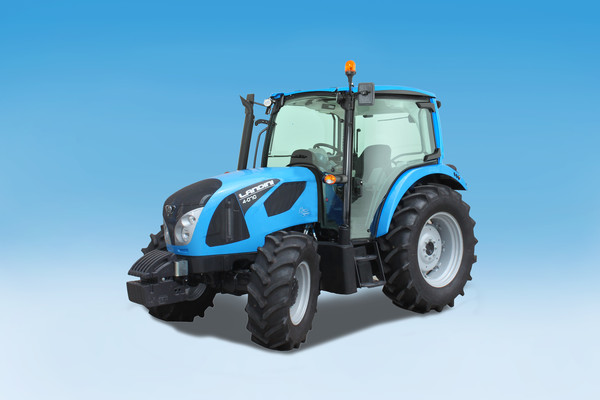 Special
Extension of the range and new design, new features for the Landini brand
The manufacturer from Emilia will be debuting three new compact models at this year's EIMA International to show its significantly expanded Series 4 range of vehicles. The spotlight will also be on the Series 6L, along with an updated version of the 5H Series
by Giovanni M. Losavio
October - November 2014 |
Back
The Landini stand will be celebrating at the 2014 EIMA International event in Bologna as it coincides with the 130th anniversary of the Emilia-based manufacturer's founding. And in honour of this anniversary the company from Fabbrico (Reggio Emilia) has great new products to showcase.
6L Series: the new replacement for the Landpower range of Landini motorized vehicles comes in three models (6-145L, 6-160L and 6-175L with 143, 163 and 176 hp, respectively), with a 4.5-litre, 16-valve engine that meets Tier 4 Interim emission standards using the innovative Selective Catalytic Reduction (SCR) system. Ideal for working in the open field – where the 270 litre tank ensures operational independence – 6L tractors have a rear-hinged bonnet that provides easy access to the engine compartment, while the "compass opening" system of the radiator facilitates cleaning and maintenance operations. The 6L Series comes with a mechanical reverse power shuttle or an optional hydraulic power shuttle with 3 shifting gears. It has excellent performance thanks to the hydraulic circuit that provides a total of 87 l/min for systems, in addition to 38 l/min for steering; up to 5 flow distributors may be used for the hydraulic circuit. Featuring an electro-hydraulic (standard) synchronized PTO clutch, the three new Landini models offer electronically-controlled rear lift capacity up to 8,400 kg and 3,500 kg front lift capacity (with optional PTO).
4 Series: the 4 Series is expanding with three new models – the 4-060, the 4-070 and 4-080 with rated power outputs of 61, 68 and 75 Hp, and maximum power outputs of 64, 69 and 76 Hp, respectively – definitely more compact than those of higher power (4-090, 4-100 and 4-105) and with a Deutz engine that meets Tier 4 Final emission standards and DOC oxidation catalyst (which does not require a DPF filter). Available with 12 + 12 gears with mechanical (or optional electro-hydraulic) reverse power shuttle equipped with a potentiometer to adjust the aggressiveness of the shuttle and an optional 16 + 16 creeper transmission, the new 4 Series models come in either platform or cab versions. These are extremely flexible machines that can adapt to a wide range of uses, from haymaking to front loader usage, and even up to working in large vineyards and orchards (the 12.4-36 rear tyres give the compacts an overall width of just 1.73 m). The system also includes a servo-assisted mechanical or electro-hydraulic PTO clutch, a 49 l/min + 28 l/min hydraulic circuit, and two flow distributors with the ability to add one rear and two side distributors. The mechanically-controlled rear lifter has a capacity of 2,700 kg, and can be extended to 3,400 kg with an additional cylinder. Finally, the front axle has an integral disc brake system and the four-wheel drive is, once again, electro-hydraulic. Beginning in 2015, the 4 Series will be further updated for the European market to include the versatile and affordable 4-075 model, powered by a Perkins Tier 3 engine.
5H Series: in line with Landini's new design concept, the four models in the 5H Series (which range from 88.5 to 113 Hp) have a newly redesigned cab that takes comfort and visibility to the next level. Outfitted in Italy by Argo Tractors, the cab features a flat floorboard and a four-post structure to ensure the utmost visibility for the operator. The telescopic steering column can be adjusted from within by means of a built-in instrument control panel which, along with the ergonomic controls, the new air-conditioning system and the low height of the tractor, make driving the 5H Series a pleasant experience even under the most demanding working conditions.