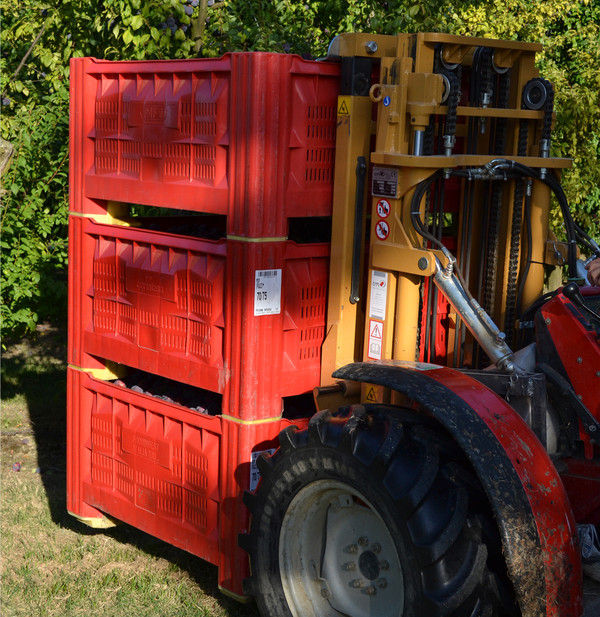 Special
CM: integrated solutions for moving
by Fabrizio Sereni
October - November 2014 |
Back
For CM in Lugo, near Ravenna, 2014 is an important date which marks the fortieth anniversary of the manufacturer and a year of great ferment and initiatives focused on the consolidation of their domestic and international markets.
The new features associated with the anniversary will be on view at the upcoming EIMA International, the great Bologna trade fair where CM will unwrap the innovations applied to their products. Leading the way is the Forklift Quadruplex CM 20QH built with four hot rolled steel lift profiles and side shift given opportune modifications to ensure, maximum height being equal, optimum visibility of the work area and a very limited vertical profile without, however, compromising load capacity of the forklift at 2,000 kg.
The machine is equipped with two double-effect lateral lifting cylinders which can be coupled to the tractor which take in oil and, at the same time, return what is no longer used to the lubrication plant to ensure forklift operations with full loads while maintaining hydraulic power consumption in balance. This, in turn, lowers fuel consumption. The CM 20 QH stands out not only for performance but also features great reliability thanks to the introduction of sealed roller bearings joined by a Fleyer chain system for lifting and lateral movement fitted with bronze rollers for great resistance to wear in the most demanding operations. The Tipper CM 165 Flap PFR is a machine with a maximum load capacity of 1,200 kg equipped with an advanced locking system, given a CM patent, which locks on to the bottom of bins leaving the top opening free to facilitate emptying the bin when tipped upside down. With a single lever the operator can command a sequence valve for locking the bins and turning them upside down and the valve controls zero flow of the pump displacement. Other valves inside the rotation chamber deploy fins, which retract on contact, to slow and stop rotation allowing more than one container to be transported together. Yet another feature is a supplementary valve designed to speed up the exchange of one bin for another by allowing the flap to return inside the forklift the tipper is mounted on without waiting for the central support to be completely raised.